After enjoying ten years of continual growth in San Diego, we moved our web design and hosting office to Foley, MN. Serving the St Cloud Central Minnesota area.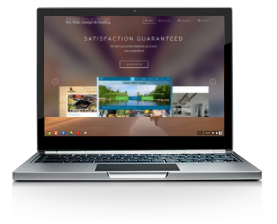 Our Web Site  Design and Hosting Services
We offer affordable solutions and can handle even small web design budgets. We are a one stop shop, meaning we can take care of everything for you:
Starting with registering a domain name (in your name) for you. We'll even help research what appropriate domain names are available.

You'll need web hosting, this is where the files that make up your website will reside and be available to the people on the Web. We'll set your hosting up, which includes all of your email accounts. If needed, we can walk you through the process of setting your email accounts up in your computer email program, such as MS Outlook.

We'll design a web site that's right for you and your budget. We pay careful attention to what you want and need your website to accomplish and can even offer some powerful ideas that you may have never thought about.

If we build it - they will come? Not necessarily! We can discuss how you plan to market your web site. We offer search engine optimization, which is the process or art of getting your website to rank high on the right keyword phrases for your business. At very least, you may want us to submit your new website to the major search engines to be included in their database of sites.
We welcome you to contact us, even if it's just to pick our brain. Whether you use our web design or hosting services or not, we'll happy to help any way we can.
Our web design Foley, MN office is near the Saint Cloud (St Cloud) area of Minnesota and surrounded by Sauk Rapids, Sartell, Waite Park, Pleasant Lake, Rockville, Cold Spring, Saint Joseph (St Joseph), Avon, Albany, Holdingford, Saint Stephen (St Stephen), Rice, Royalton, Little Falls, Gilman, Ronneby, Foreston, Milaca. Bock, Ogilvie, Pease, Princeton, Zimmerman, Elk River, Otsego, Big Lake, Monticello, Becker, Clearwater and Clear Lake, as well as Minneapolis / St. Paul, MN.