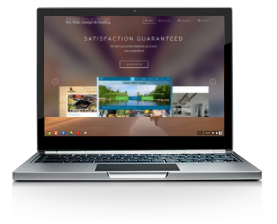 Corporate websites or portals
Online commerce
Small business websites
Non-profit and organizational websites
Government applications
Corporate intranets and extranets
School and church websites
Personal or family homepages
Community-based portals
Magazines and newspapers
the possibilities are limitless…
Content Management System (CMS) is the type of website we specialize in. If you are interested in a full description of this type of site, please have a look here. Our particular CMS of choice is Joomla, although we manage many Wordpress sites as well.
In short, with a CMS type site, the software used to create the site is not on a local desktop computer, but rather it's installed on the server that hosts the website. This means no special software is needed on your computer to make edits to your site. You merely log into the website and edit it live.
This type of site allows for some very powerful features, least of which is that the client is able to easily make edits online themselves. There are components, modules and plugins that can be added to extend the functionality way beyond that of a traditional web site.
Content Management System sites are used all over the world to power everything from simple, personal homepages to complex corporate web applications. On the right are just some of the ways this type of site can be used:
Bottom Line: We are experts in using the most advanced, state of the art way of making websites. With functionality beyond what you typically see in static websites. Please contact us to discuss your website project. We will be happy to provide you with a free quote that we'll stand behind.
All of the example websites you'll see on our Example Works page are Joomla CMS sites.